Misty May and Kerri Walsh – Quotes, Facts, Bio
Explore Misty May and Kerri Walsh quotes. Find interesting facts about Misty and Kerri.
Quotes from Misty May and Kerri Walsh
"I'm in!" – Kerri right after the second Olympic Gold medal in Beijing when interviewer hinting at expanding their family.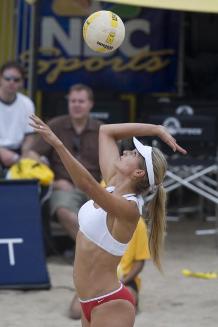 Kerri Walsh
"I'm chubby and I'm pregnant and it's awesome!" –Kerri Walsh
"Well, they way they date pregnancies is a little bit confusion. We believe we conceived during our last days in Beijing, or about a couple of days after we won the gold medal." -Kerri
"I think it's impossible (she being pregnant during the Olympics), but you never know!" "I don't want to get into all of the details, but I'm pretty sure it was a couple of days after." –Kerri
"I think the chubbiness is all relative, but it's for the very best cause (pregnancy) in the whole world, and I'm proud of it." –Kerri
"I know that she's trying, and that's all I can say!" Kerri about her partners Misty May's plans about pregnancy and having family.

"We were suddenly doing 10-year-old-girl things—rolling in the sand." –Kerri
"The most important thing was to get that hug and hold on to each other—because we did it." -Kerri after Beijing Olympic victory
"Lisa Leslie said how inspired she was watching us. And the other day on the beach, I heard someone chanting, 'U-S-A! U-S-A!' It was [soccer great] Mia Hamm. To have these strong women cheering you on is so cool." –Kerri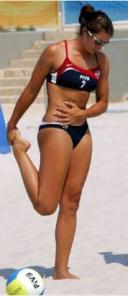 Misty May
"It would be cool to do that (playing mixed volleyball with guys) as a subset of what we already do - as long as we play on a guy`s net, so guys don`t spike in our faces." -Kerri
"Going overseas is a vacation. There`s so much going on at home. There`s other things in our life, so we need to get that extreme focus back. -Kerri
"We take care of that by not thinking about it," "We're prepared and we're ready. We practice like it's the next tournament. We just try to stay focused." – Kerri Walsh about preparing for Olympic Games
"Mr. President," Misty said, "want to?" Misty May asking US President Bush whether he wanted to tap her rear-end (after peppering with President Bush during Beijing Olympic Games 2008.)
Quotes about Misty May and Kerri Walsh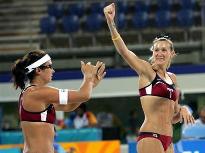 "The 112-match winning streak compiled by Misty May-Treanor and Kerri Walsh is remarkable ... But for beach volleyball's dynamic duo, that string of dominance was the byproduct of their singular focus of becoming the first team to repeat as Olympic gold medalist, a feat they accomplished in Beijing to cement their status as the sport's greatest partnership ever." - Universal Sports
"We have seen the future. It wears a bikini." Reporter after Misty May and Kerri Walsh won their second Olympic Gold medal in Beijing
Facts from Misty May Bio
She is nicknamed "Turtle."

Three time Olympian (2000: 5th, 2004: Gold, 2008: Gold)

Misty attended Newport Harbor High School in Costa Mesa, California.

Attended California State University, Long Beach. Won a national championship with Long Beach State in 1998.

Married to baseball player, Florida Marlins catcher Matt Treanor in 2004.

She works as an assistant women's volleyball coach at Irvine Valley Junior College.

Misty has two dogs - boxers, Gruden and Boogie.
Facts from Kerri Walsh Bio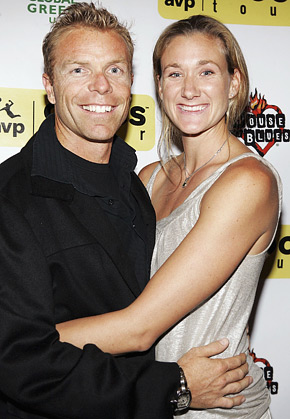 Kerri Walsh and her husband.
Hometown: Saratoga, California

Three time Olympian (2000: indoor 4th, 2004: Gold, 2008: Gold)

Graduated from Archbishop Mitty High School (San Jose, Calif.) in 1996.

Graduated from Stanford University with a BA in American Studies in 2001.

1996 and 1997 – won a national championship with Stanford University.

Married Casey Jennings in 2005. Jennings is one of the top men's volleyball players on the AVP Tour.

Kerri asked Misty May for her autograph, when Kerri was a sophomore in high school.

Favorite Movie: True Romance

Favorite Band: Sade

Favorite Show: The Apprentice

Role Model: Paul Newman, Andre Agassi

Favorite food: Mexican
Misty May and Kerri Walsh Related Pages
To see more about Misty and Kerri, go to

Volleyball Quotes

Kerri Walsh Volleyball Quotes

Misty May Volleyball Quotes