Misty May Volleyball Quotes
Read volleyball quotes from Misty May, one of the best female volleyball players. You'll find some very funny volleyball quotes from this great beach volleyball player.
Volleyball Quotes - Misty May Olympic Gold Medalist
After winning Best Defensive Player Award 2007:
"I want to thank Todd (Rogers) - Yes, I watch you. You may not know that, but I pick up things. I'd like to thank the rabbits for running around back there."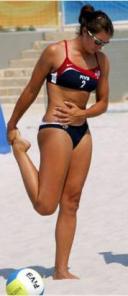 About Kerry Walsh:
"I wouldn't be the best offensive player if I didn't have a great setter. She serves me up nectar." "Kerri and I have had our ups and downs, of course. Last year we had some rough times, but we never needed marriage counseling or anything like that. We're pretty good at communicating with each other."
After taking the stage for the third time to accept an award:
"I feel like Sonny and Cher."
After winning the Olympic gold medal:
"A lot of people had doubts. I tried to tell people I never had doubts."
"Transitioning from indoors to beach can be very frustrating for a lot of players. Everyone wants to be the best when they step out on the sand. Like anything, it takes time, practice, and a commitment."
Volleyball Quotes - Misty May Olympic Gold Medalist Off the Court
"I don't like to be the center of attention - unless I'm on the dance floor."
On her life as a constant tandem:
"Kerri and I are a unit. We're a team, and just by the nature of our sport, we're always promoted together. I think we are definitely two different people with two different personalities, but we're always linked."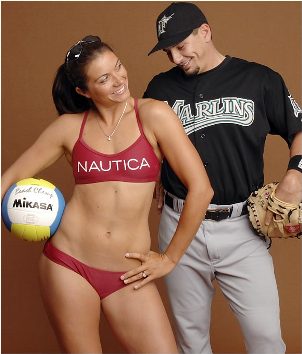 On how she keeps a low profile:
"Once the day is over in volleyball, I leave the court and no one sees or hears from me for the rest of the day. I like to keep work at work. It's pretty easy for me to live a pretty normal life. I like to coach and I like to sit in a crowd at a baseball game. No one really recognizes me unless I'm walking around a beach half-naked in a suit with my name on it. Of course, I have it easier than Kerri. When you're 6-3 you tend to stick out a little bit."
On getting hitched to husband Matt Treanor:
"Not to take anything away from my husband -- his proposal was very cute, but I kind of knew it was coming. The engagement wasn't a huge surprise. I knew I had him! But with Kerri, I needed to do a little more convincing! I'd have to say that the bigger shocker in my life was when Kerr and I decided to play together."
After appearing on MTV Music Awards and Emmys:
"I'm still waiting for Saturday Night Live to call."
"My future plans are now up in the air. I want to have a family, and that will be my goal after the Olympics (Beijing 2008). I turn 31 this summer. It's time for me. I know my husband and I both want to have children. So does Kerri Walsh, who's also married. She feels the same way as I do on the subject. So, after the Olympics, we're both not sure what we're going to do."
More Volleyball Quotes from Misty May