Best Volleyball Teams — Which are the Best Teams Ever?
Read about the best volleyball teams. Find out which are the most winningest teams in volleyball.

Whether you are new to the sport, an avid fan, or even a player the chances are you have heard about these teams. Keep reading and you will soon realize that being on one of the best teams ever is no small achievement.

Best Volleyball Teams of All Time: Men's Teams
1984-1988 USA Men's Olympic Team in Volleyball
This winning group of men brought volleyball to a new level of respect as a sport, especially in the United States.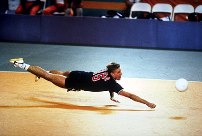 Karch Kiraly, US Volleyball Legend
As one of the greatest teams ever won a long and prestigious string of championships, Americans began to fall in love with volleyball. Soon this less publicized game became known as "America's Sport."

Notable accomplishments of this team began with the win of the Olympic Gold in 1984. Now, this was the year that the dominant Soviet Union boycotted the Olympic Games. But if this left people wondering whether or not the USA men's volleyball squad was one of the best, they got their answer in the form of a resounding yes.

Even with significant changes to this volleyball team's roster, they went on to win an impressive string of tournaments and championships as listed here.

Karch Kiraly on Beach Volleyball
1985 USA Cup
1985 NORCECA
1985 World Cup
1986 World Championships
1987 Savvin Cup
1988 Olympic Gold Medal
1990's Italian Men's National Team in Volleyball
Earning its place among the best teams of all time, the Italian Men's National team owes its success to their coach, Julio Velasco. He prepared the team for the international court by changing and adding staff, analyzing and improving plays, and emphasizing team unity.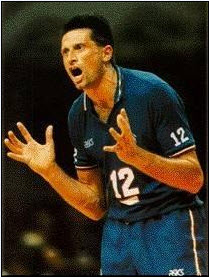 Andrea Lucchetta, National Team of Italy
This team's winning streak began with a Gold medal at the 1989 European Championships and continued through the 1990's with the following wins.
1990, 1994,1998 World Championship
1995 World Cup
1990-1995, 1997, 1999, 2000 World League
This is one of the prestigious teams to be inducted into the volleyball hall of fame's court of honor, recognizing the team for its significant commitment and contributions to the world of volleyball.
2000's Men's National Team of Brazil
Men's national team of Brazil has virtually won everything in 2000's. This team could be the very best volleyball team ever lived. No other team has dominated any era so clearly as this team.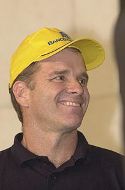 Coach Rezende, National Team of Brazil
Between the years 2001-2008 this Brazilian team won nearly every competition they attended. The team of coach Rezende was marching from victory to another and totally dominated the sport in 2000's.
To read more about this team, its famous players and the coach, visit the following pages:
Famous People in Volleyball - Coach Rezende
Best Volleyball Teams of All Time: Women's Teams
Late 1990's to 2000's - Cuba Women's National Team
This women's team holds an impressive decade worth of dominance in this sport. The leadership of their coach, Eugenio George led the Cuba women's team to stand on the winner's podium over 25 times!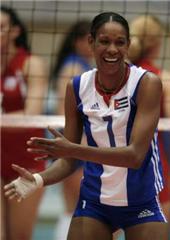 Yumilka Ruiz, National Team of Cuba
Nicknamed for their origin and success, the "Spectacular Caribbean Browns" have possibly the longest list of achievements of any of the best teams in history.
1992, 1996, 2000 Olympic Gold Medal
1994, 1998 World Championship
1989,1991,1995,1999 World Cup
1989, 1991, 1995 Grand Champions Cup Gold Medals
Finally, in 2000 coach George received the honor of being named the best women's volleyball coach of the twentieth century, by the Federation Internationale de Volleyball. Of all successful teams in volleyball, Eugenio George is probably the most widely recognized coach.
Related Pages
To read about Brazilian Men's National Team of 2000's, go to
(LINK coming up)