Funny Volleyball Slogans
You can find these fun volleyball slogans on volleyball t-shirts, jerseys, etc.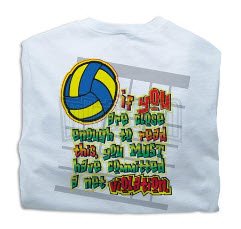 Many of these sayings are made for the female volleyball players.
If you are a male volleyball player, feel free to create new ones for males and sending them in through the contact form :-)

Funny Volleyball Slogans for the Female Volleyball Players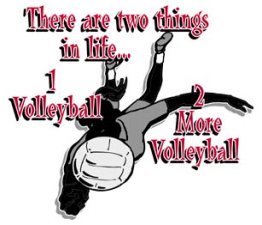 pretty girls don't play ball
so lets get UGLY!!!!!!!!!!!!!
"Our game is tighter than our spandex."
Front: Our Spandex might be tight
Back: But My team and I are tighter.
"Chicks dig us cause guys can't"
"Queen of the Court"
"Sorry Dear, Did you need a Manucure with that Facial?"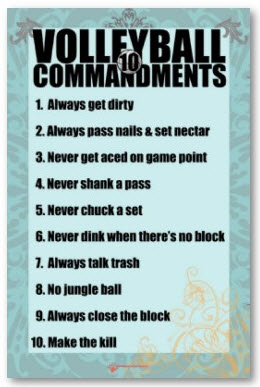 "Yeah… I play like a girl. You got a problem with that?"
"You wish you could hit like a girl."
"It's all fun and games until some girl kicks your butt!"
"I love my volleyball spandex shorts."
"My lovely lady bumps"
Front: We don't play with barbie dolls
Back: We play with volleyballs.
More Volleyball Quotes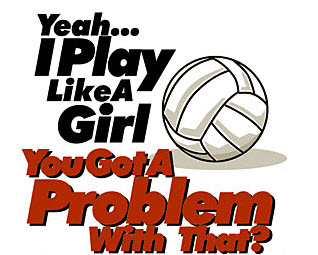 "Dig deep within themselves. Set high goals. Hit their target. Block out distractions. Know how to Win!"
"shank you very much"
"Warning. Player does ANYTHING to keep the ball in the AIR. Enter court at your own risk."
Front: I bust mine
Back: So I can kick yours
Front: You Won't Like it
Back: When we Spike it
"You just got SERVED!"
"Hit 'em where they're not!"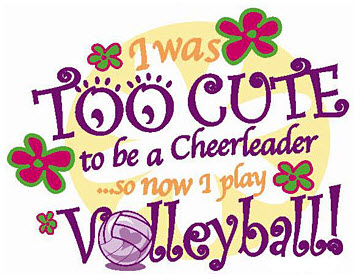 "Set it UP! Spike it DOWN!
"See you in court."
"Can you dig it?"
"Pain is temporary, but pride is forever."
"It's our Duty to kick your booty!"
*We bust ours to kick yours."
"Bustin' ours so we can kick yours."
"Volleyball.. It's not how tall you ARE. It's how tall you PLAY. I play HUGE."
"REJECTION: Blocking someone so hard it knocks a grandma of the bleachers!"
"Talk to Hands! (with the picture of two "blocking hands")"
Slogan for Beach Volleyball
"If you're not sandy, you're doing it wrong!"
Top Ten Reasons I Play Volleyball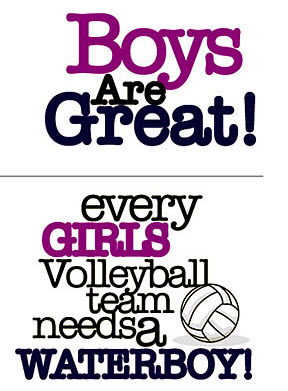 10. I like to practice safe sets
9. Mom buys me cool t-shirts
8. I can score when I want
7. All the bumping and without the grinding
6 Yellow cards are pretty
5. Facials are free
4. I can use you for target practice
3. I can play inside and outside
2. Guys really dig it
1. It beats cheerleading
Funny Volleyball Slogans for the Coach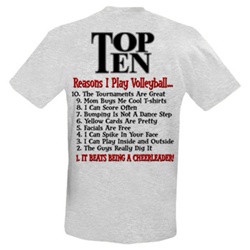 "I've heard it all... I coach volleyball."
"I am the coach. To save time assume I know everything."
"You don't scare me... I Coach Volleyball!"

Related Pages
To see volleyball cheers and chants, go to
Volleyball Chants
Volleyball Cheers
abcgreatpics.com - Volleyball Quotes