Introducing One of the Most Famous Professional Volleyball Players - Giba
Professional Volleyball Players - Gilberto Amaury de Godoy Filho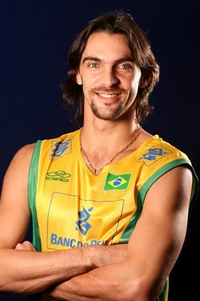 This superstar's full name is Gilberto Amaury de Godoy Filho, but he is much better known as Giba.
Giba is the best known player in one of the greatest volleyball teams ever, Brazilian men's volleyball team from this decade. Giba may be the best player in Brazilian superb volleyball team and is a superstar among volleyball fans all over the world.
Giba is not only an excellent professional volleyball player, but also has passion, energy and charisma which make him lovable by the volleyball fans – and the power to inspire the whole Brazilian team to play its best.
Giba is not very tall (192 cm) for a volleyball player, but replaces the height with his quickness and astonishing athletic ability. He is arguably one of the best outside hitters (wing spiker) in the world.
Giba has been a key member of the Brazilian volleyball team, the World and Olympic Champions who have dominated the sport in this decade and won nearly everything since the year 2001.

Giba played his first Olympic Games in Athens 2004. Athens was a special defining moment in Giba's life; Brazil won the Olympic Gold Medal and during the Olympics Giba's first daughter, Nicole was born.
Giba has been crowned the Most Valuable Player in 2004 Olympic Games, 2006 World League and 2006 World Championships.
For the 2007-2008 season Giba signed a 3-year contract to play professional volleyball in Russia after playing several club volleyball seasons in Brazil and Italy. He represented Iskra Odintsovo, a club team in small Odintsovo town near Moscow.
Brazilian volleyball team has been nearly unbeatable in 2000's and have been a clear favourite in any tournament they have been playing in.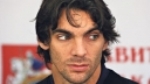 A new generation of Brazilian volleyball players accompanied with Giba have been taking over their National Team after the Beijing Olympic Games – therefore keep in mind to enjoy great volleyball of Giba - he will be not there forever. London Olympic Games is most likely the last opportunity to see Giba and a couple of other players of one of the best and most successful volleyball teams in action.
Professional Volleyball Players - Quotes from Giba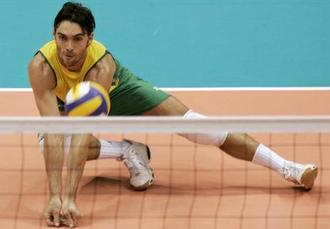 Despite the fact they are expected to repeat the Athens success in Beijing, Giba stays very modest:
"I already have one Olympic gold medal. I just do my best."
Also according to his motto Giba seems to be very modest and humble:
"My lifetime motto is to learn as long as I live."
"In the Brazilian national team we have a group of about four, five players who are in their thirties and have been together for years. And still, every time we step on the floor to practice or play a competitive match, we learn something new, striving to improve our play further."

Volleyball Quotes from the Professional Volleyball Players:
"Yes, he is a very spectacular player the way he plays. I could say that some of his moves are beautiful the way he does it. He's a wonderful athlete." Brazilian head volleyball coach Bernardo Rezende.
"Giba is the type of player that when it's a big game, a big event, he's always ready." Coach Rezende
More Volleyball Quotes from Coach Rezende


More Famous Volleyball Players


Quick Facts about Giba, one of the most famous volleyball players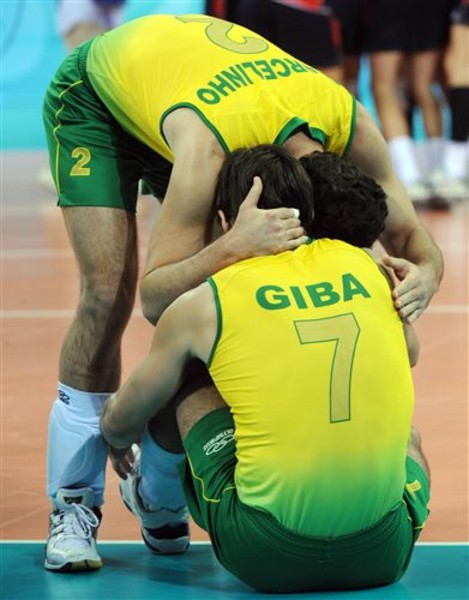 Name: Gilberto Amaury de Godoy Filho
First name: Gilberto
Last Name: Godoy Filho
Born: December 23, 1976 in Londrina, Brazil
Position: outside hitter (wing spiker)
Shirt number: 7
Height 192 cm (6-4)
Weight 85 kg (187 lbs)
Spike 325 cm (10-8), block 312 (10-3)
Teams: Brazil national team, Iskra Odintsovo, Piemonte Volley, Chapecó São Caetano, Olympicus São Caetano, Repot Nipomed, Minas Belo Horizonte, Ferrara
Personal Awards:
Most Valuable Player 2004 Olympics
MVP World League 2006
MVP World Championships 2006