Funny Volleyball Quotes from the Famous Volleyball Players
Explore our collection of funny volleyball quotes from the top volleyball coaches and famous volleyball players in the world. These volleyball slogans and sayings from the famous people in volleyball should bring a smile on your face.
Funny Quotes of Professional Volleyball Players
"I don't know anyone taller than me in volleyball. In world sport, maybe China's basketball player, Yao Ming, but in volleyball it's me." --Alexey Kazakov 217 cm (7-2), Russia Men's National Team.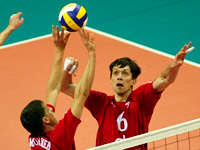 The tallest volleyball player?
"No one has come here to be a tourist," "we have to play from the first ball to the last ball," "we must play 100 per cent in every game if we want to go to the finals."Captain Nikola Grbic, Serbia Men's National Team.
"I am really happy and I can't express it in words, I just don't have the words. I will find the words some day." -- Puerto Rican Hector Soto after selected to the top scorer in World Championships 2006.
"The difference between us and the other teams is that we can be crazy. That is how we play the game, we are very passionate so we show it on court." --Ricardo Garcia, Brazil Men's National Team.
"Yes, there is a bit of craziness in the Brazilians with the way we play. That is a character of the team and everybody knows that." --Ricardo Garcia, Brazil Men's National Team.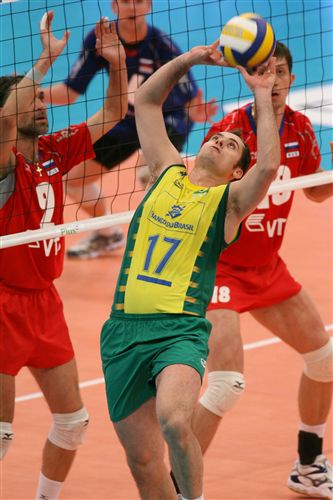 Craziness in this Brazilian team?
"... I think getting to the third round would be pretty incredible for us because it is such a small island and nobody knows us, nobody knows anything about our team."Jose Rivera, Puerto Rico Men's National Team after beating up big countries in World's Championships 2006.
"You don't think so much -- you're just the big idiot, the big goon. You're more like the Shaquille O'Neal, who just gets out there and bangs and doesn't make the finesse shots." Kevin Wong about his job as blocker when partnering with Karch Kiraly.
"Feel free to check it out, try it on, just don't junk it," Todd Rogers joked when presenting his Olympic gold medal to the audience. "And remember, I have a fair amount of speed." - Todd Rogers, Olympic Beach Volleyball gold medalist in Beijing 2008.
Funny Volleyball Quotes from Other Famous People in Volleyball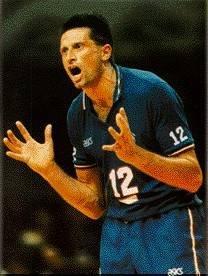 "In any competition you want to beat them, but not just because they are Italy. People ask us if we want revenge from the football World Cup, but this is not football. We will be happy if we beat them, but that is because they are a good team. Nothing more." --Phillippe Blain, Coach France Men's National Team
"All the coaches here have been trying to prepare their teams to be the best in the world, and unfortunately only one team can be." --Hugh McCutcheon, Coach US Men's National Team
Funny Volleyball Quotes from Misty May and Kerri Walsh