Famous Female Volleyball Players
Helia Souza (Fofão), Brazil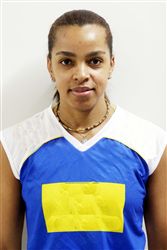 Hélia Rogério de Souza of Brazil, better known as Fofão became one of the well-known female volleyball players in 2008 Olympic Games. Fofão appeared in Olympic Volleyball fourth consecutive time in Beijing 2008.
In Beijing Fofão, 38-year-old captain led her team to Olympic Gold medal as a starting setter. She was selected the best setter of the 2008 Olympic Games after superior performance throughout the tournament.
Height: 1.73 / 5'8"
Recent results:
2007 Grand Prix:5th
2006 Worlds: 2nd
2003 World Cup: 2nd
1996 Bronze Olympics
2000 Bronze Olympics
2004 Olympics: 4th
2008 Gold Olympics
Nikolic Jelena, Serbia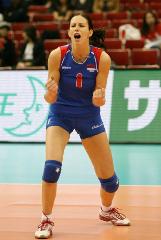 Jelena Nikolic is a wing-spiker (outside hitter) for the Serbian women's volleyball team. The 25-year-old hitter led Serbia to its surprising bronze at the 2006 World's Championships and helped team Serbia to qualify the team for its first Olympics.
Teams: VC Takefuji Bamboo (Japan), VakıfBank Güneş Sigorta (Turkey).
Height: 1.94 / 6'4"
Brakocevic Jovana, Serbia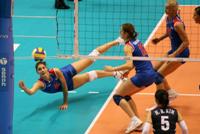 Brakocevic is born in year 1988 and is one of the future stars of the women's volleyball.
Brakocevic is an universal player and played as an opposite hitter in the Beijing Olympic Games of 2008.
Teams: Poštar 064 (Serbia), Spess Volley Conegliano (ITA).
Height: 1.96 / 6'5"
Rosir Calderon, Cuba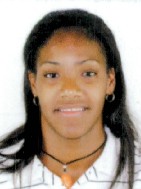 Rosir Calderon Diaz was selected the best spiker at the 2006 Worlds Championships. She is one more powerful offensive player to Cuba's strong lineup.
She is the daughter of Erenia Diaz, a former world champion and Cuban women's national team head coach.
Awards:
- World Grand Prix 2005 Best Spikers (of the final round)
- Best Spiker FIVB Women's World Championship Japan 2006
Born: December 28, 1984
Height: 190 cm/ 6' 2" Spike reach 330 cm/10' 8"
Teams: Ciudad Habana, Cuba
Famous Chinese Female Volleyball Players
Yimei Wang, China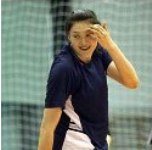 Keep your eyes on Yimei Wang of China. She has very quickly become one of today's best female volleyball players. This hard hitting woman became a big star in Beijing Olympic Games 2008.
Yimei Wang (born 11/01/1988) made her international debut for the national team 2005. In Olympic Games 2008 this 20-year-old opposite hitter was 2nd best scorer in the tournament! People did not know so much about her before the Olympic Tournament 2008 - now they do for sure.
Height: 190 cm/6' 3"
Shirt name: Wang Y.M.
Teams: Liaoning (China)
Major achievements:
2003 Asian Junior Women's Volleyball Championship and Most Valuable Player award
2005 Women's Volleyball World Grand Prix Finals: Third place
2005 World Grand Champions Cup: Third place
2006 Women's Volleyball World Grand Prix Finals: Fifth place
2008 Olympic Games: Third place (2nd best scorer in the tournament)
Yang Hao, China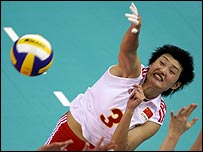 Yang Hao ((Chinese: Pinyin: Yáng Hào)) is a Chinese female volleyball player. Yang currently plays volleyball for club in Liaoning and has played for the national team during many of its recent successes. Chinese team won the gold medal in the 2004 Olympics, where they defeated Russia in one of the most memorable women's volleyball match ever.
Strength of the national team of China is their balanced and well-build team, but if one player needs to be brought up, she is Yang Hao. She has been a leading player for the Chinese national team in its recent tournaments. In 2008 Olympic Games Chinese team placed 3rd. Yang Hao is an efficient server and received the best server of the tournament award several times during her career.
Height: 1.83 cm/6' 1"
Born: 21 March, 1980
Shirt name: H. Yang
Awards:
World Grand Prix 2007 Best server
World Grand Prix 2005 Best Server
World Grand Prix 2003 Best Server
Famous Female Volleyball Players Related Pages
Famous Male Volleyball Players Karch Kiraly
Famous Female Volleyball Players - Successful Olympians