Famous People in Volleyball
Coach Nikolai Karpol
Mr. Nikolai Karpol, nicknamed "The Howling Bear" definitely belongs to category - the famous people in volleyball. Karpol is known for his great achievements as well as his outstanding coaching style.
Famous People in Volleyball - Volleyball Coach Known All Over the World
Karpol is a charismatic and one of the most experienced international volleyball coaches. Karpol is
two-time Olympic gold medalist in 1980 and 1988
three-time Olympic silver medalist in 1992, 2000 and 2004
World Champion in 1990
three-time World Championships bronze medalist in 1994, 1998 and 2002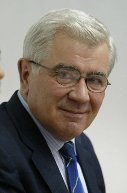 Karpol has become a cult figure to volleyball fans due to his personal coaching style. He is famous about loud time-outs and aggressive yelling at the players - and the very next moment his softer coaching style takes over again and he can have a warm smile on his face. Karpol's nickname is "The Howling Bear."
Karpol retired his successful coaching career after 2004 Olympic Games. His timeouts will be greatly missed, those were fun to watch.
Other Famous People Volleyball Coach Rezende
Quick Facts about Famous People in Volleyball - Coach Karpol:
Name
: Nikolai Karpov (sometimes seen Nikolay Karpol, in Russian Николай Васильевич Карполь)
Position
:Coach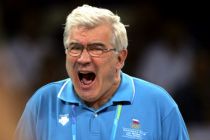 Born
:May 1, 1938 in Brest region, Russia
Nationality
: Russia
Teams
:Russia Women's National Team (The Soviet Union in the early years), Croatia Women's National Team, Uralochka Ekaterinburg (club team in Russia)
Nickname
: "The Howling Bear"
Skills
: Uses his mathematical skills in the coaching and has organized the game based on mathematical game theories. Karpol has said he recruits players who are strong, completely self-confident and who will not admit any greater authority than themselves.
Individual awards: FIVB Coach of the Year in 1989 and 1991, and the best coach of the 1990 Volleyball World Championships.
Achievements
:
Olympic games:
Gold: 1980 and 1988, silver: 1992, 2000 and 2004
World Championships:
Gold: 1990, bronze: 1994, 1998 and 2002
Championships of Europe:
Gold: 1977, 1979, 1989, 1991, 1993, 1997, 1999, 2001
World Champions Cup:
Gold: 1997, silver: 2001, bronze: 1993
Grand-prix:
Gold: 1997, 1999, 2002, Silver: 1998, 2000, 2003, Bronze: 1993, 1996 and 2001
Winner of the European Champions League (Champions Cup):
1981, 1982, 1983, 1987, 1989, 1990, 1994, 1995
Volleyball Quotes from the Famous People in Volleyball - Coach Nikolai Karpol
"Behind me there are quite a lot of years of work as a volleyball coach. I had five Olympic finals and I got two gold medals and three silvers." Nikolai Karpol after announcing his retirement.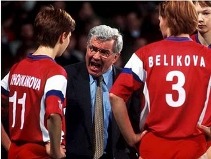 "I always have to say I'm an actor, performing in front of spectators," Nikolai Karpol said when he was given a loud boos from the audience for yelling at his players during time-outs and after misplayed points. "The players create the screenplay."
"You have to study psychology. A coach is a teacher, the player is his pupil, who apart from physical ability and knowledge of the game has a character which the coach has to get to know."
"Today our team looks the exact opposite. In Barcelona, we had a very experienced team, and the Cubans were very young. Now we are young and they have the experience. It's quite possible that wisdom will conquer." -- Nikolai Karpol