Famous Male Volleyball Players - Superstars of the Modern Volleyball
Introducing famous male volleyball players in the most successful team ever.
To give credit to arguably the best men's volleyball team of all time - Brazil Men's National Team during the coach Bernardo Rezende's era in the 2000's - we list the most memorable members of the Brazilian team in this section.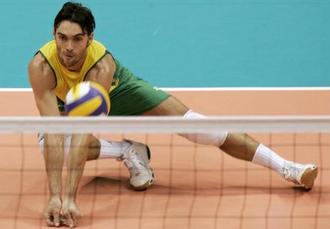 Giba, the Star of Brazilian Men's National Team
This team is considered the best and most consistent men's volleyball team of all time – winning nearly every major competition in years 2001 – 2008.
Acccomplishments - Men's National Team of Brazil in 2000's - Is this the Best Team Ever?
Here are amazing accomplishments of coach Rezende and his team:
Olympic Games:
Gold 2004 Athens
Silver 2008 Beijing
World Championship :
Gold 2002 Argentina
Gold 2006 Japan
World Cup:
Gold 2003 Japan
Gold 2007 Japan
World League:
Gold 2001 Katowice
Gold 2003 Madrid
Gold 2004 Rome
Gold 2005 Belgrade
Gold 2006 Moscow
Gold 2007 Katowice
Gold 2009 Belgrade
Silver 2002 Belo Horizonte
Introducing Famous Male Volleyball Players - in the Winningest Volleyball Team
Endres Gustavo, Brazil
Gustavo Endres (known simply as Gustavo; born August 25, 1975) is a Brazilian volleyball player.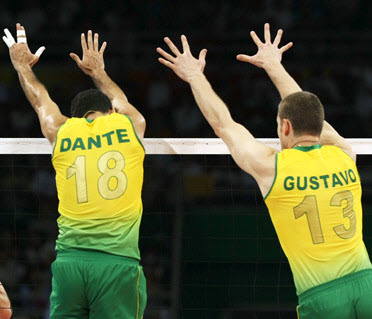 Gustavo's accomplishments with Brazilian men's national team are so great that he could be considered to be the one of the best middle blocker of all time.
Gustavo played nearly unbeatable Brazilian volleyball team throughout the victorious 2000's. He finished his great career in National Team to the final match of the Beijing Olympic Games 2008.
Height 203cm (6'8)
Born August, 25, 1975 in Passo Fundo, Brazil
Club Teams: Sisley Treviso (ITA), Latina (Brazil), Ferrara (Brazil), Banespa Sao Bernardo (Brazil)
Awards:
Best Blocker in world cup 2007
André Heller, Brazil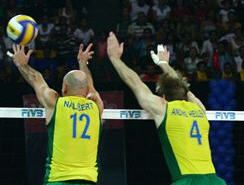 As well as Gustavo he could be named one of the best middle blockers ever. Andre Heller (born December 17, 1975 in Novo Hamburgo) is a three-time Olympian (2000, 2004 and 2008).
André, Brazil
Andre Luiz da Silva Nascimento (Andre) is the opposite hitter of the national team of Brazil and has been a crucial part of Brazil's successful run to countless victories in 2000's. His Height is 195cm / 6'5" and spiking reach 340 cm. Teams: Pallavolo Modena (Italy), Bom Pastor
Sérgio Dutra Santos, Brazil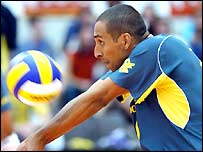 Sérgio Dutra Santos, nicknamed as Serginho or Escadinha is one other famous male volleyball players from Brazil. Sergio (born October 15, 1975 in Diamante do Norte) has been recognized as one of the best liberos in the world. He is known for his agility, quickness as well as enthusiasm and passion he brings up on the court.
Awards:
Best Digger 2004 Olympics
Best Receiver 2004 Olympics
Best Libero 2004 Olympics
Dante Amaral, Brazil
Dante has been a member of the superb men's national volleyball team of Brazil since 1999. His height is 2,01 m and his position is wing-spiker (outside hitter).
Teams: Três Corações (Brazil), Suzano São Paulo (Brazil), Minas Belo Horizonte (Brazil), Pallavolo Modena (Italy), Panathinaikos (Greece).
Awards:
Best Blocker World League 2005
Best Spiker World Championship Japan 2006
Best Spiker Olympics 2004
Anderson, Brazil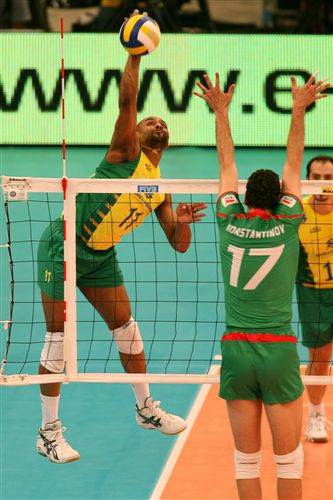 Anderson, Brazil
Anderson Rodrigues (born May 21, 1974) is a an opposite hitter of Brazil Men's Volleyball Team. His height is 190cm / 6'3" and spiking reach 330 cm.
Gilberto Amaury de Godoy Filho (Giba), Brazil
Read the bio and quotes from Giba by clicking the link below.
Professional Volleyball Players - Giba
More Famous Male Volleyball Players
LINK