Bios of Best Beach Volleyball Players
Introducing some of the best beach volleyball players in the world. Read about world class legends and uprising superstars in Beach Volleyball.
American Beach Volleyball Players
Phil Dalhausser (USA), Men's Beach Volleyball
Born on January 26th 1980, in Lupfig, Switzerland, Dalhauser names Orlando, Florida as his hometown. This 6'9" player known as "The Beast" spends most of his game time at the front of the court. His height makes him the perfect candidate to spike, block, and drill the ball for points.
Off the volleyball court, Dalhauser is a laid-back guy who puts in a lot of couch time with his video games. He's also really into fantasy football, basketball, and baseball.
Notable Accomplishments:
AVP Best Offensive Player (2005, 2006, 2007)
AVP Most Valuable Player (2007)
FIVB Best Blocker (2006, 2007)
FIVB Best Hitter (2007)
Todd Rogers (USA), Men's Beach Volleyball
At 6'2" tall, Todd Rogers is the other half of the Olympic Gold Medal winning duo from 2008. Originally from Santa Barbara, California, Rogers is considered a veteran in the Beach Volleyball world. He has been playing since high school and even has some coaching experience.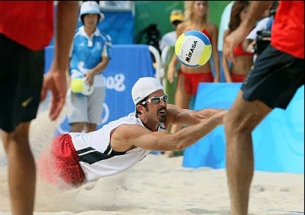 Todd is called "The Professor," probably for his coaching abilities as well as his analytical approach to the game. Even with his partner, Phil Dalhauser, Todd has taken on a coaching type role. He dissects the game and his opponents, learning their tendencies, strengths, and weaknesses.
Notable Accomplishments:
AVP Best Defensive Player (2004, 2005, 2006, 2007)
AVP Most Valuable Player (2006)
FIVB Best Defensive Player (2006, 2007)
FIVB Best Setter (2005)
Olympic Gold Medal (2008)
Sean Rosenthal (USA), Men's Beach Volleyball
Although Sean Rosenthal was born on June 19th 1980 and raised in Redondo Beach, California, he considers himself an untrained player. Or at least he started out that way. Sean is a beach bum at heart and that's where he mainly taught himself how to play the game.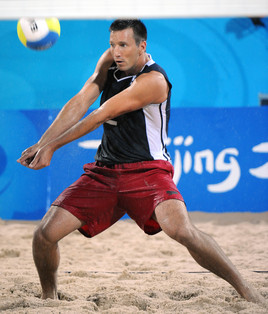 He truly is a rags to riches story. With a troubled childhood and much of the weight on his shoulders to help pay the bills, Sean never played volleyball in high school. For that matter, he didn't graduate either.
Perhaps the most interesting part of Sean Rosenthal's life as a beach volleyball player is the fan club that comes with it. A group of his close personal friends call themselves "Rosie's Raiders." They support Sean at every major event. Onlookers have described it as a crazy scene. Rosie's Raiders have a pre-game routine, t-shirts, a flag, and even their own sponsors.
Notable Accomplishments:
AVP Best Defensive Player (2007)
FIVB Tour Top Rookie of the Year (2006)
Jake Gibb (USA), Men's Beach Volleyball
Much like his partner, Rosenthal, Jake Gibb is a self-taught beach volleyball player. However, unlike the majority of players in the United States Gibb is not from sunny California. Quite the opposite, he was born and raised in Bountiful, Utah.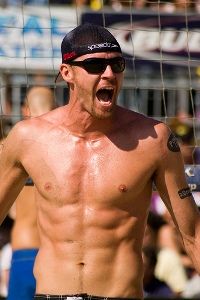 Jake and his wife moved to California in 2002 with no more than a month's worth of rent in their pockets. She took two jobs and encouraged him to pursue volleyball fulltime. Being a former player herself, Jake's wife understood and supported his passion.
Notable Accomplishments:
AVP Most Improved Player (2004)
AVP Most Valuable Player (2005)
AVP Team of the Year (with Metzger) (2005)
FIVB Top Rookie (2005)
Beach Volleyball Players from Brazil
Ricardo (Brazil), Men's Beach Volleyball
(Full name: Ricardo Santos OR Ricardo Alex Costa Santos)
Born in Brazil on January 6th 1975, this athlete is known throughout his sport simply as Ricardo. He has been to the Olympics an impressive three times. And, in 2000 he became the youngest male beach volleyball player in history to win a medal, when he and his partner took the silver medal at the Sydney games.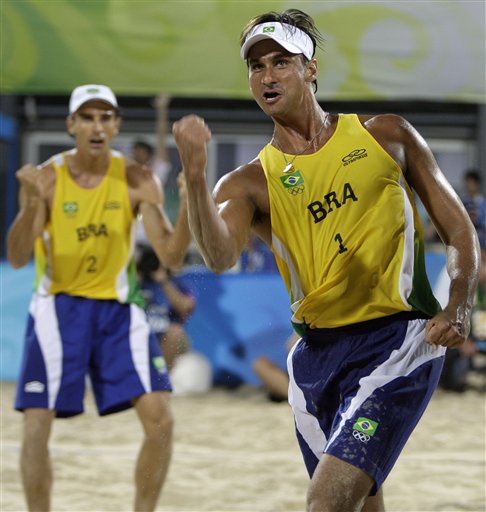 Ricardo's roots are actually in soccer. He played professionally in Argentina before deciding to switch over to beach volleyball.
Notable Accomplishments:
Olympic Silver (2000)
Olympic Gold (2004)
Olympic Bronze (2008)
Men's FIVB World Tour "Best Hitter" (2005)
Men's FIVB World Tour "Best Attacker" (2005, 2006, 2007)
Men's FIVB World Tour "Most Outstanding" (2005, 2007)

Emanuel (Brazil), Men's (Full name: Emanuel Rego)
Born on April 15th, 1973 Emanuel is definitely a veteran in the sport of beach volleyball. He has spent over 15 years on tour in the sport and gone to the Olympics games an impressive four times.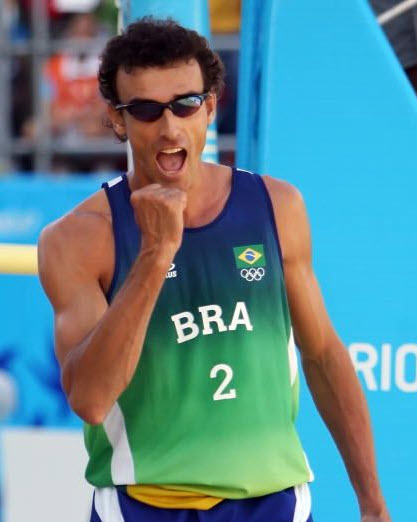 He has really grown up on the court and says that now he approaches the game differently than he used to. Before he was always concerned about winning, now he says, "I play every ball, make every play, and forget about winning." Perhaps it is this type of focus during the game that has brought him more success in the later part of his career.
Notable Accomplishments:
Olympic Gold (2004)
Olympic Bronze (2008)
Men's FIVB World Tour "Best Hitter" (2006)
Men's FIVB World Tour "Most Outstanding" (2006)
Men's FIVB World Tour "Sportsperson" (2005)
Men's FIVB World Tour "Team of the Year" (2005, 2006, 2007)